Feedbackly Alternative Compare
When comparing various Customer Feedback tools available there are many things to consider. Below are a few topics to consider when looking for an alternative to Feedbackly Customer Survey. Feedbackly vs SurveyStance Price
Feedbackly Price
Feedbackly price starts at around $99/mo up to $299/mo and beyond based on their website at time of this posting.  The price is tiered and increases based on the amount of responses, touchpoint devices, and users increase.
SurveyStance software price is for 1 feedback kiosk is $39/mo ( SurveyStance Pricing) and includes unlimited responses and users.  Pricing is based on number of feedback devices. All billing/agreements are month-to-month.
Compare Customer Feedback Products (Feedbackly Alternative)
Feedbackly offers 2 different ways to collect customer feedback (Feedbackly Terminal & Feedbackly Web).
Feedbackly Terminal can be compared to SurveyStance Feedback Kiosk and is used to capture real time feedback from customers in person.
Feedbackly Web allows customers to capture feedback from their website visitors.  This is unique to Feedbackly and is not something SurveyStance offers.
SurveyStance offers one other customer feedback solution in addition to the Feedback Kiosk.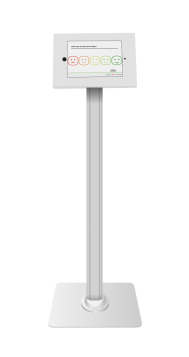 Email Signature Survey (OneClick) is a digital emoji based survey that you embed within your email signature.  As employees interact with customers they can click on a range of emojis at anytime to share their feedback. Great way to allow feedback to be submitted anytime.
API Integrations
Feedbackly offers some type of API to allow for custom integrations to be setup. SurveyStance offers API for enterprise customers, however, it's not to the extend that is available when comparing Feedbackly.
Office Locations
It appears Feedbackly is based in Finland while SurveyStance is based in United States. It appears both companies serve customers worldwide.
Feedbackly Review
Feedbackly provides a great customer feedback platform, overall the reviews are positive with the exception of a few negative reviews which can be expected for any established company. There is a range of mixed reviews found via online review sites like Capterra and others.
The biggest downside of Feedbackly for some might be the price based on the reviews. At the time of this posting it was $299/mo for the Feedbackly Pro Plan which might be too expensive for some compared to SurveyStance Kiosk.
Contact us to request a trial or to schedule a call to learn more!