How much does Happy or Not cost?
If you are considering buying a Happy or Not Machine Kiosk Terminal to capture feedback from customers or employees? Or if you are just reviewing Happy or Not Cost and Pricing there are a few things to consider prior to making a decision. The below list should help make an educated decision to best fit your feedback kiosk terminal needs.
Power and Wifi Connection?
If your business will NOT have any power plugs or WiFi internet connection then Happy or Not might be the best way to go, however, if your company does have power and internet then we recommend to use a more robust Feedback Survey Kiosk like SurveyStance to capture feedback. SurveyStance software is an iPad based All-In-One kiosk that allows the customer or employee to provide more such as: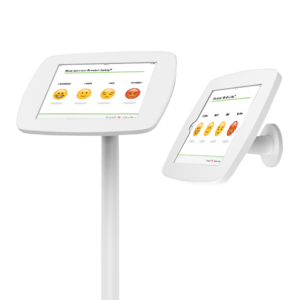 User to Share Additional Feedback
User to Provide Email Address (Great for Marketing)
Admin to have Multiple Questions within each survey
Admin to quickly change questions (without printing on paper)
Does your Company want to ask more than ONE Survey Question?
If you want to ask your customers or employees more than one question then Happy or Not Terminal is NOT the best solution. The Happy or Not Terminal is designed to only capture 1 survey question.
If you're looking to capture multiple questions then we suggest SurveyStance Feedback Kiosk.
Happy or Not Pricing
Happy or Not pricing can be more expensive, this might be due to the cellular data that is required (remember it does not use WiFi). SurveyStance may be able to provide more competitive pricing since our software is built on iOS and utilizes iPads that operate on your wifi internet connection.
Overall Happy or Not Cost vs Alternatives
While we think the battery operated and cellular connected Happy or Not Terminals provide a great niche in the market, most traditional businesses get more out of a Feedback Kiosk like our SurveyStance Kiosk.
For more information around a Feedback Survey Terminal we would love to help you! Please fill out the below form and a Survey SuperStar will be in touch within 24 hours. SurveyStance is a NOT associated with Happy or Not and the services offered are an alternative to happy-or-not smiley terminals. Check out more about Happy or Not Alternatives.
SurveyStance Pricing & No long term contracts
$59/mo (billed monthly)
Kiosk + Monthly Service Included

(paid monthly & NO long term contracts)

Includes the following:
SurveyStance Secure Kiosk (iPad w/ Locking Floor Stand)
Unlimited Surveys
Unlimited Data
Phenomenal Customer Support
Online Dashboard & Reporting w/ Weekly Email Reports
SMS & Email Notifications