Senior Living Dining as an Experience
When choosing a senior living residence, food quality and dining experience is a top contender along with access to care, staff's attentiveness, and cleanliness. Many checklists encourage those who are considering a residence to stay for lunch or dinner to receive the full experience as a resident and taste the freshness and quality of food. However, even with savvy shoppers, food complaints are still in the top five frustrations for senior living resident survey stats.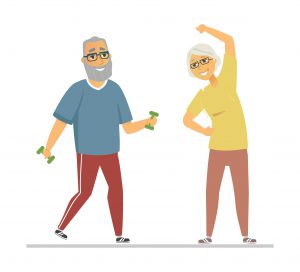 These complaints vary from taste, variety, presentation, freshness, and overall experience. The menu may become too repetitive, or a new vendor may not produce the quality of food seniors are accustomed to. For staff and administration to quickly recognize and address the problem, fun and easy to use survey kiosks consisting of an iPad and SurveyStance's four face rating scale help quickly collect data from the seniors' dining experience. By having dining surveys in the senior living facility, they will be able to quickly identify where their residents are dissatisfied by asking what their main issues are. Questions to ask residents about satisfaction can range from cuisine types, quality of food, overall taste, preparation, etc.
Residents involved in a senior living satisfaction survey, especially surrounding their meals, carry more trust in the residence and increase their overall happiness. Just like any service-based company, customer feedback is crucial to securing customer happiness. Improving the dining experience is a quick win for senior living management.
Surveys Identify Gaps in Healthcare
Caretaker attentiveness is a key indicator of a senior's senior living experience. In contrast, inattentive or uncaring staff harm seniors. Seniors complain about service despite many attentive staff members. Surveys are the best way to assess resident satisfaction with care. Emoji-based senior living community surveys let residents speak up and identify staff issues quickly.
With immediate feedback from a senior living resident survey, staff and administration can observe what areas remain overlooked. Are some seniors genuinely lacking care? Is care taking too long to arrive? Are individual caregivers more attentive or have better bedside manner than others? Feedback through SurveyStance provides measurable and instant results from which management can derive the appropriate actions to take to improve customer experience.
Questions related to gaps in care that surveys answer:
Are you satisfied with the quality of service?
Was assistance received promptly?
Overall, how would you rate your experience?
Cleanliness Improves Wellbeing
Seniors who live in clean homes are healthier and receive better care. For assisted living and senior living residents with weak immune systems, dust and surface bacteria must be controlled. Unfortunately, facilities sometimes fall short of residents' expectations. Cleanliness also removes fall hazards from communal and private spaces. A senior living resident survey can reveal issues.
Sample questions for cleanliness include:
Overall, how satisfied are you with the cleanliness of the residence?
Are you satisfied with the cleanliness of the dining area/activity room/etc.?
Are you satisfied with how often vacuuming/dusting/etc. is conducted?
Involving the Family Increases Everyone's Happiness
Sometimes, family members of residents are more critical of the senior living residence than the seniors themselves. Managers must understand the point of view of the family. They want to ensure their loved one receives high-quality care in their absence. It's important that they have the opportunity to share feedback as well through an assisted living family satisfaction survey. Some residents may not always feel comfortable sharing feedback also so by allowing their family to do so on their behalf should be encouraged.
Senior living residencies can not only provide the internal results of their surveys, but they can also ask for feedback from non-residents. Non-resident questions can include and certainly are not limited to:
Are you satisfied with the level of communication from the senior living residence?
Is your senior satisfied with their care/food/residence cleanliness?
How would you rate the senior living residence during your last visit?