Smiley Face Survey Kiosk Terminal
Using in-store smiley face kiosk terminals to determine if your customers are happy or not is on the rise!  The reason most businesses do not get the feedback they need from customers is mainly because of the process in which we ask our customers to give feedback.  The percentage of your customers who will fill out an online survey is very low.  This is why Smiley Face Survey Kiosks are the perfect solution!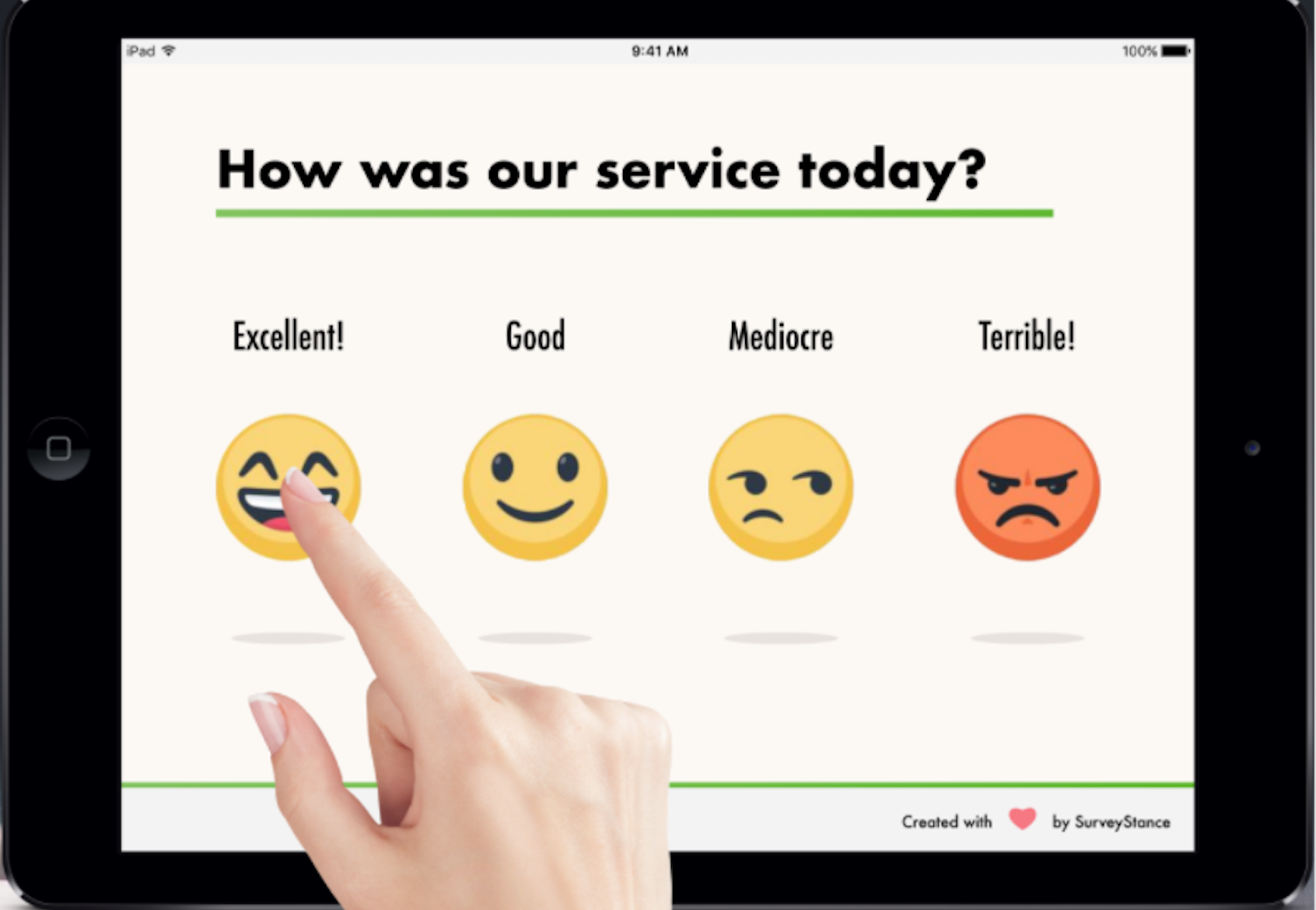 What is a Smiley Face Survey?
Smiley face survey is a type of customer feedback survey where the customer can select a range of emoji faces (smiley face to angry mad face) to answer a survey question.  These types of surveys are very popular worldwide and are used by a wide range of companies and industries.
What is a Kiosk Survey?
A Kiosk Survey is a tablet based survey that is designed to capture a high volume of customer feedback in the moment. Businesses will place the Kiosk Survey within their brick and mortar store to allow customers to quickly share feedback about their experience by quickly tapping a few emojis. These surveys usually require a kiosk survey app to operate.
Types of Survey Question Inputs:
SurveyStance offers several different survey question inputs to select from.  While some of the options are based on design preference (emoji smiley faces) others are more strategic in collecting customer feedback. Check out our post on 7 Effective Questions for Emoji Surveys.
Emoji Smiley Faces 4 points & 5 point scales
Thumbs Up / Thumbs Down
Yes / No
NPS (Net Promoter Score)
Star Ratings
Free Form Text Input (Customer can type freeform)
Custom Inputs (Survey Admin can specify custom input options)
Smiley Face Survey Scales
5-point scale (Excellent, Good, Average, Bad, Terrible) This is the most popular survey scale.
4-point scale (Excellent, Good, Bad, Terrible) If you are using this scale the middle average is removed
2-point scale (Good, Bad) This can be happy face and sad face or thumbs up / thumbs down
10-point scale (Net Promoter Score) The NPS is a popular 10 point scale
Types of Emoji Surveys
There are several different types of emoji based customer surveys.  The most popular is the 5-point smiley face scale.  Some other popular types are 4 point smiley face scales, NPS (net promoter score) survey, binary options (Yes/No & Thumbs Up/Down).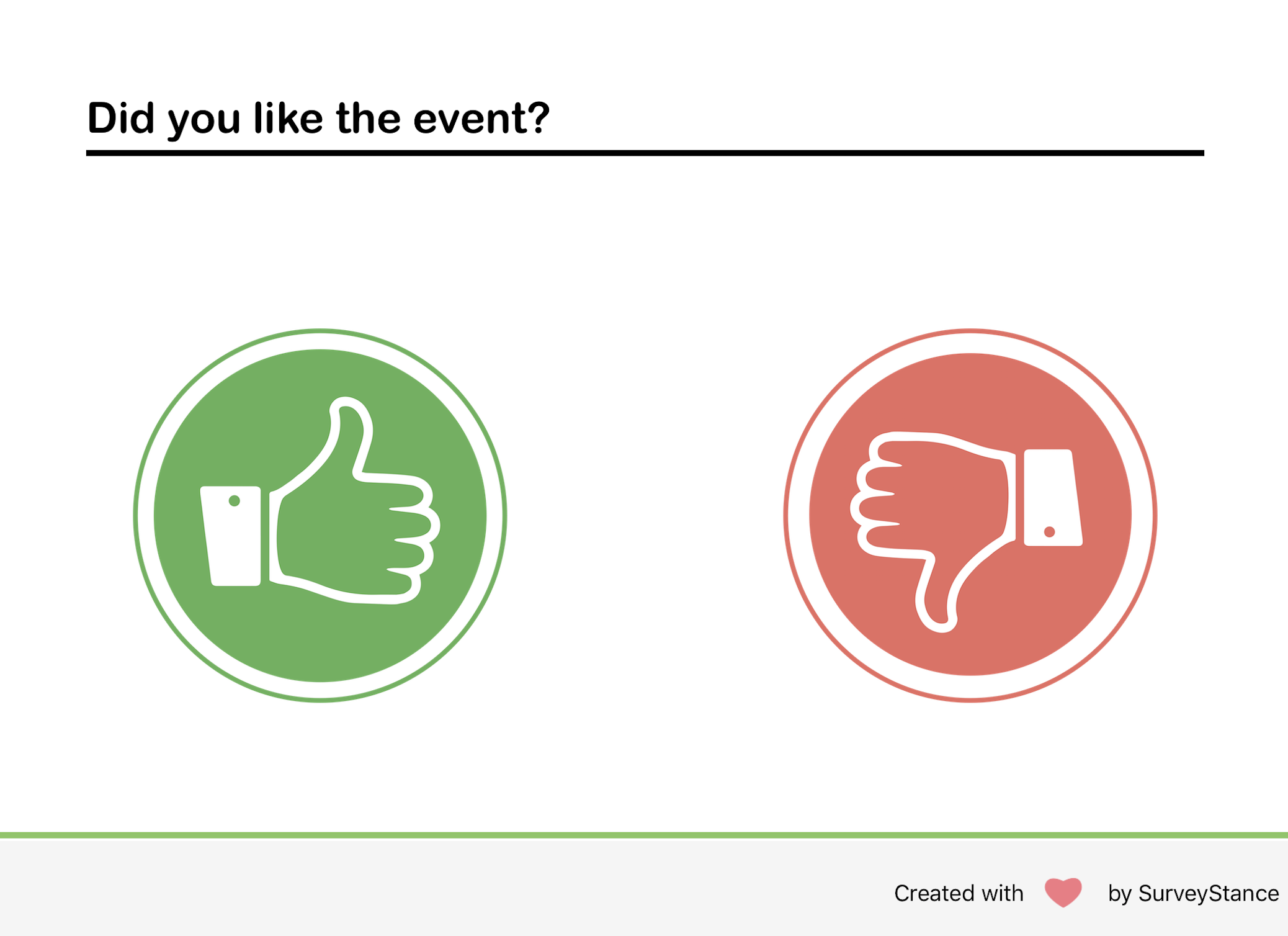 Is a smiley face unprofessional?
No, smile faces used to collect customer feedback is not unprofessional.  In fact smiley faces have been long used to quickly describe an emotion or a way you're feeling.  So this naturally makes sense when asking a customer to share their feedback on a specific topic.How Smiley Face Surveys Works
The key to a successful smiley face survey is to create a simple survey that the customer can respond to quickly.  We suggest 1 question surveys that rotate questions to allow you to capture feedback on a range of topics without having to ask every customer all the questions.
Survey Stance Kiosk placement is the next most important factor!  We will help advise you on where to place the iPad Survey Stand to allow for maximized results.  It's important to put the iPad Survey Kiosk somewhere with high foot traffic but still secluded enough so your customers will give an honest rating.
Smiley Face Feedback Buttons
Collecting customer feedback using feedback buttons has long been effective in not only high survey response rates but also ease of use.  There are several ways to use these smiley face feedback buttons, one of the most popular is feedback kiosks placed within your business where customer can quickly tap a smiley face to respond to the survey.