If you are in the process of setting up your Emoji Survey App on your iPad and seeking suggestions of effective questions to ask, we've got you covered! You can definitely customize by your type of business but here are more general questions as a starting off point.
Top 7 Emoji Survey App Questions
Question 1:
How was our service today?
Straight to the point and gauges if they were happy or dissatisfied. Great for any business such as hotels, restaurants, car /auto, salons, retail stores, etc. Could be used for a product as well instead of service.
Question 2:

Did our staff offer their assistance during your visit?
We love this question for businesses seeking to improve customer service, customer satisfaction and customer loyalty. It's 100% geared towards achieving the best customer experience possible and shows customers that you care by asking for their feedback.
Question 3:

Were you able to find what you were looking for today? 
This is ultimately a yes/no thumbs up or down emoji rating where you are trying to understand if they found what they came in for. Wonderful for retail businesses.
Question 4:

Did you experience a long wait time?
This is an exceptional question for businesses that require a customer check in. This can be very insightful for medical or health facilities (including urgent care), restaurants, DMV's, pharmacy's, etc.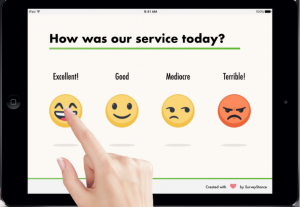 Question 5:

Was our store/facility clean?
While this is always important, it's especially important during a pandemic. If you want to ensure that your customers feel safe during their visit, then this is a must have. This question applies to all businesses but we have seen it used in retirement community customers, gyms or exercise studios, airport/arena bathrooms, retail and medical.
Question 6:

What could we have done better to improve your experience?
A great open ended question that allows your customer to give you specific details about their visit and how it could have improved.
Question 7:

How likely are you to recommend [Business Name] to your friends and family?
The NPS question that companies love. It's direct and to the point and tells you customer loyalty. The best part about this question is that it captures NPS but with a solution like SurveyStance, it allows you to ask other customized questions that can provide you with the additional details you need to improve customer experience.