Airport Smiley Face Survey Feedback Terminal
You know those airport feedback survey's (Smiley Surveys) found in Airport Bathrooms or near the or Security Checkpoints? These type of airport bathroom surveys are popping up everywhere! These smiley face feedback buttons make it quick and easy for travelers to share feedback. We found that customers are too busy to give feedback especially within an airport while traveling. Tapping a smiley button to give the feedback on the kiosk takes less than a few seconds. Most find it easy to understand, tap a happy face button or sad face button to rate your experience in real time.
Why all airports should have survey feedback buttons?
All airports should have some type of Feedback Kiosk to allow travelers to to share their experience quick and easy. Most airports have found the staff actually performs better when they know they are being measured with these smiley face kiosks. This is not unique to airports, businesses around the world are using SurveyStance Feedback Kiosks to ask both Employees and Customers important survey questions to see if they are happy.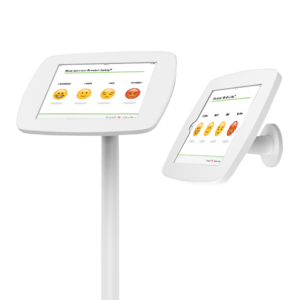 Airport Smiley Button Survey – Best Uses Cases
• Restrooms / Bathrooms: Setting up an airport bathroom survey to make sure it is clean at all times is very important. Monitor the cleanliness of rest rooms at the airport to take necessary steps and follow the highest standards of cleanliness for passengers.
• Check-In: Measure the ease and comfort level of the flight check-in service at the airport.
• Security Check: Find out how efficient and friendly your TSA security checkpoint service is.
• Restaurants: Identify ways in which you can ensure the customers are satisfied when eating at the restaurants.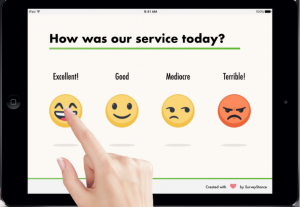 Survey Software & Kiosk All-In-One
For many people, air travel is a weekly or more frequent routine. Asking for feedback from such flyers is important to get more accurate data for improving your services and overall experience.
At SurveyStance, we help you find the ultimate software solutions for your airport that can help improve the experience of a customers. Airport smiley button surveys are not just quick and effective, also quite easy to use by travelers. After all who doesn't like tapping on a smiley face button, especially when you are a happy traveler! Read more about our Survey App for iPad.
In a study done by NY Times on Airport Bathrooms are Getting Better found that technology has played a large part including smiley feedback kiosks to get proper attention to the washroom based on the feedback collected.